DULCINEA FRENCH AND ENGLISH BULLDOGS
Linda and Cherokee Iceman... in the ring !
In loving memory of a great little man who went over
the Rainbow Bridge on January 6, 2010, at the age of 11 1/2.
I will never forget you.......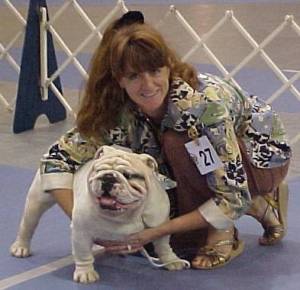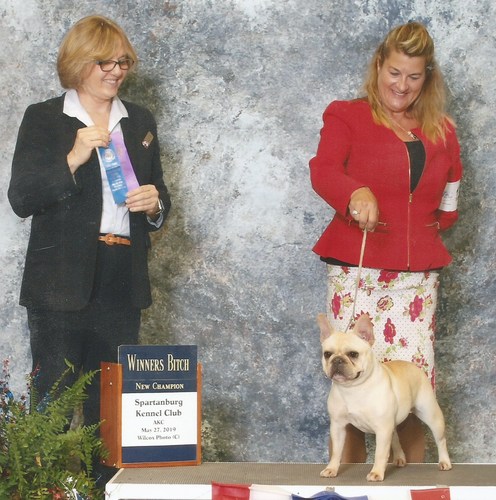 Pictured above:
Julie Crook is handling my girl Desirae. Julie is a great professional handler and has been my friend for many, many years.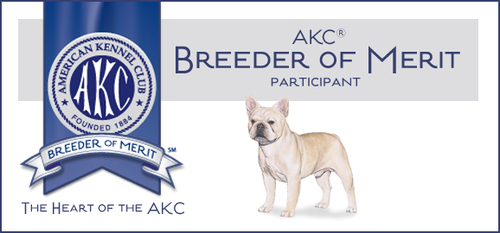 I started dog showing back in the 80's, when I was breeding Boston Terriers. I was the Secretary for the Suncoast Boston Terrier Club for several years, until I was introduced to the English Bulldog in 1997. After 7 short months, I placed all 15 of my Boston Terriers, and bought 2 more English Bulldogs.
I named my first Bulldog, Dulcinea Steal My Heart... as she truly did. I subsequently enjoyed being the Vice President of the Tampa Bay Bulldog Club for 8 years, from 1-1-2005 through 12-31-2012. I am currently a member of the Music City Bulldog Club out of Nashville, TN.
I also enjoyed being Secretary for Division VIII of the Bulldog Club of America for 4 years, from 1-1-2010 through 12-31-2013, and for another 2 years, 1-1-2016 through 12-31-2017. (The Bulldog Club of America is divided into 8 Divisions, and Division VIII includes Georgia, Florida, Alabama, Mississippi & Tennessee.)
Since 1997, I have bred and finished 16 AKC English Bulldog Champions and am a member of the Bulldog Club of America's "Breeders' Hall of Fame".
In 2009, I got my first French Bulldog and began having those two breeds. However, due to several issues, including my AGE, I have now moved to solely breeding and showing French Bulldogs. I will still continue to have some male English Bulldogs for breeding other Bulldoggers' girls.
In January 2010, I joined the French Bull Dog Fanciers of Mid-Florida, and was a member through 2019. I was Secretary for the Club for 3 years. I now have three French Bulldog AKC Champions (bred by me). You can buy a Champion, but you only get credit if you BRED the Champion. And I am working on my fourth Frenchie Champion...
I am an AKC designated "Breeder Of Merit", which is a huge honor for me.
And I participate in the AKC's "Bred with H.E.A.R.T." program
(Health, Education, Accountability, Responsibility, and Tradition).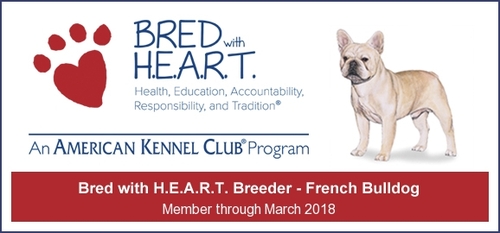 If you are interested in training your Frenchie (or other dog), you will totally love the experience at The Dog Training Club of Tampa.
TheDogTrainingClubOfTampa.org
Frenchies LOVE attention, and this is a double bonus for you and your best friend.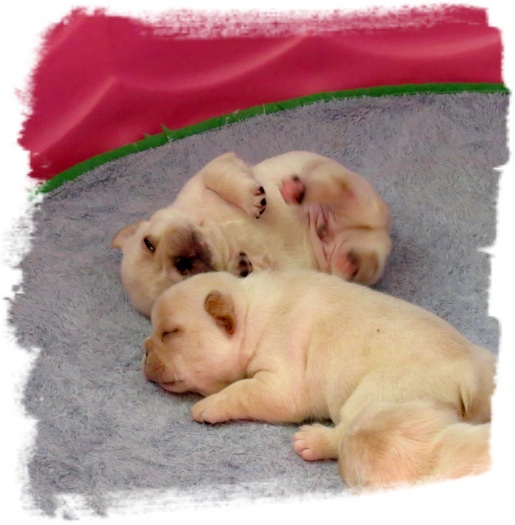 If you want information about expected or current French or English Bulldog puppies, I try to keep up with other breeders who I know and trust, and I will try to provide their information to you, as well.... Let me know what State you live in, and I will provide you with some breeders in your State also, so you may not have to travel too far.
it's best to tell me where you live and
email: DulcineaBulldogs@gmail.com
After you have the information, if you want to talk about it, please :
Text Cell: 813-312-7399
After 6 pm, I probably will let it go to voicemail.... (getting old...)
HAPPY MEMORIAL DAY !!!!!
from Mimi and Monte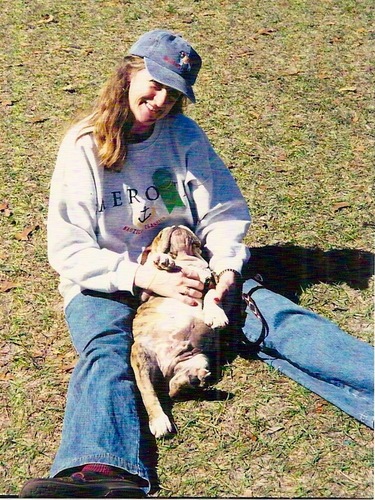 February 13, 1999
ahhhhhhh Florida in February !
QUITE the pleasure, for a girl who grew up in the Catskills playing ice hockey...