DULCINEA ENGLISH AND FRENCH BULLDOGS
Go to www.AKC.org and search "Linda Oresto"
Linda and Cherokee Iceman... in the ring !
In loving memory of a great little man who went over the Rainbow Bridge on January 6, 2010, at the age of 11 1/2. I will never forget you.......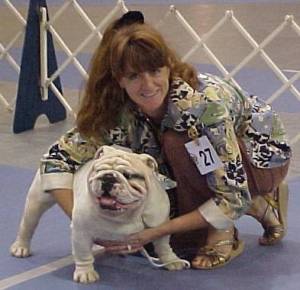 Pictured above 2010 BCA Nationals in Ft Mitchell, Kentucky.
Julie Crook is handling Dulcinea's Painted Mountain Lace (who has since completed her Championship).
The President of the BCA, Robert Rodenski, is on the right.
Judge Toni Powers is on the left.
And that's me in the background.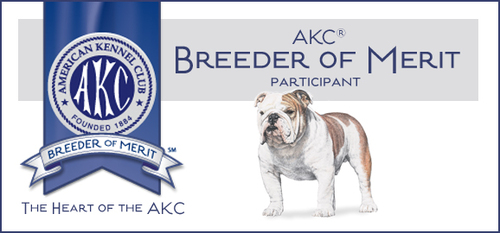 I enjoyed being the Vice President of the Tampa Bay Bulldog Club from 2005 through 2012. Also, there's a new Club forming on the East coast of Florida. Please contact Sam Steding at 321-432-6623 to find out about membership and activities.
I am the Secretary for Division VIII of the Bulldog Club of America since January 1, 2010 (which includes Georgia, Florida, Alabama, Mississippi & Tennessee).
I am also a member of the French Bulldog Fanciers of Mid-Florida.
And, if you go to the AKC site and put "Linda Oresto" in the "search" area, my name will come up on the list of breeders who have been recognized as "Breeders of Merit". This is an honor for me, as a result of many years of proper breeding practices.
So far, I have bred and finished 10 AKC Champions and am in the Bulldog Club of America's Hall of Fame for Breeders.
We are in Land O Lakes, Florida. I have been shipping puppies via Continental's Pet Safe Program/United, with no problems at all. Everyone arrives safe, clean, and happy. If you want to call them and check out flight arrangements, their number is 800-575-3335.
Thank you "Bailey" for these three GORGEOUS pups, born 5-20-2011.
We are located in Land O Lakes, FL, just north of Tampa.
ALL OUR PUPPIES ARE AKC REGISTERED AND THEIR FATHERS ARE AKC DNA'd. There is no question as to their heritage and breeding. They are excellent representatives of their breed.
First try Home: 813-412-3702
then Cell: 813-312-7399 or TEXT
email: LindaOresto@yahoo.com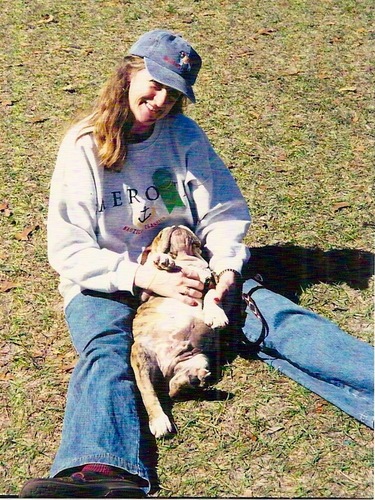 February 13, 1999 at the Tampa Bay Bulldog Club's annual Valentine's Day Puppy Match.
ahhhhhhh Florida in February !